Direct Sales
For those whom prefer to arrange installation themselves or to order consumables, we offer equipment supply from our trade counter or by mail order over the telephone and from internet sales, backed up by technical advice from our experienced staff.
Some of our range of products is listed on our online catalogue.
---
Trade counter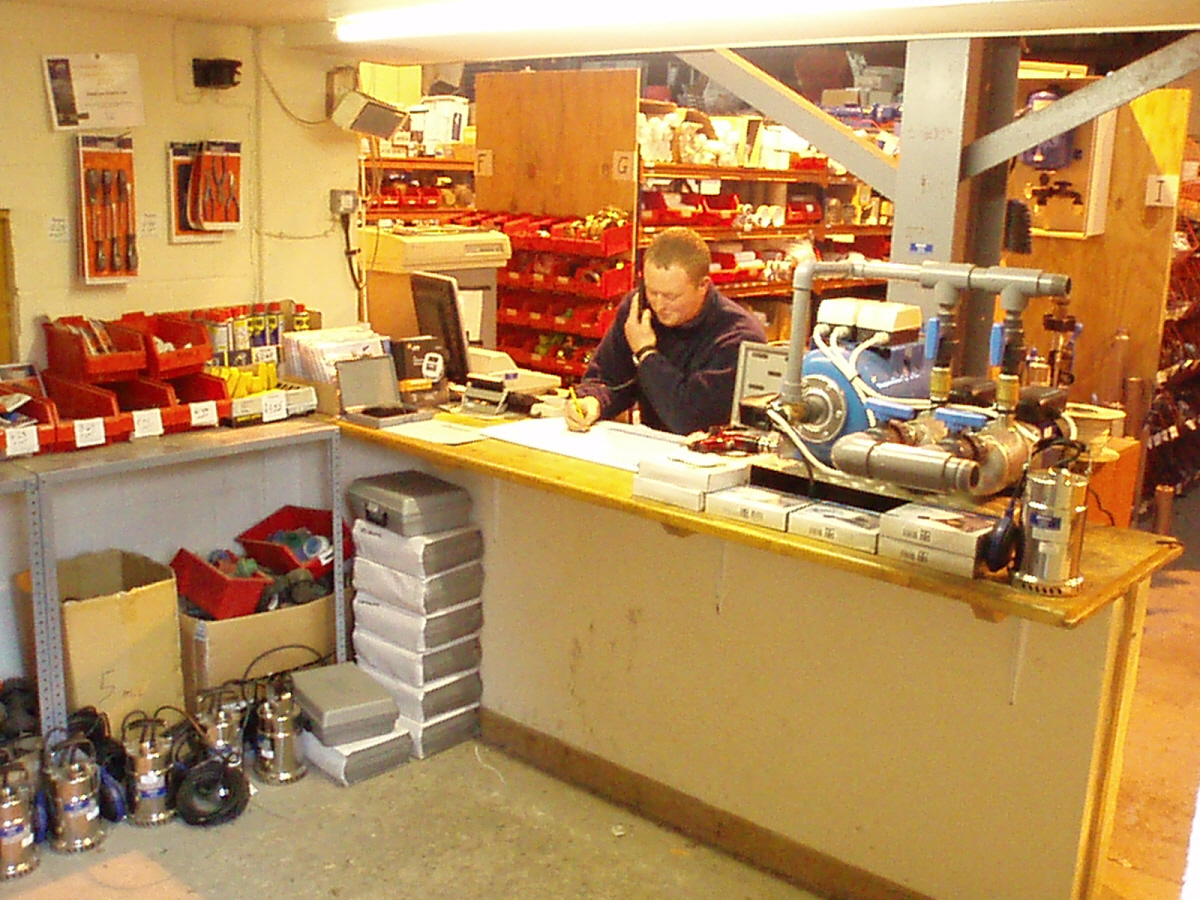 We sell from our trade counter during normal office hours including Saturday mornings during the summertime.
We also service pumping and water treatment equipment on our premises. It can sometimes be done while you wait if you arrange in advance, otherwise equipment can be left with us.
Penstar is easy to find alongside the A478 at Rhoshill, about 4 miles south of Cardigan with adequate parking available.
See the contact page for a map and directions.
---
Mail order and internet sales
The front and back office staff look after our UK-wide equipment sales and this makes up a considerable part of our business. We also export to Europe and sometimes outside of Europe. Equipment can be purchased online or over the telephone and we work with a number of couriers as well as Royal Mail for sending out smaller items.
---
We hold a large stock of pumps, control gear, water treatment equipment, pipe and fittings, pressure vessels and storage tanks.
Our stock - pumps
The main pumps that we stock include:
Pentax Ultra multi-stage pumps & DTR grinders
Zenit drainage & grinder pumps
Speroni self-priming & VS multi-stage pumps
Lelli cast iron vortex pumps for sewage & agri dirty water
JS Pumps grinder and vortex pumps
SixTeam/Sealand STO horizontal multi-stage pumps
Generic borehole pumps in 4" and some 3" diam.
Grundfos borehole pumps and spares parts available
Mono scroll and stator borehole and surface pumps
Our stock - other equipment
Other equipment that we stock includes:
Global Water pressure vessels (as used by Grundfos)
Storage tanks - wide range of polyethylene WRAS approved tanks
Control gear - e.g. pressure & float switches, starter boxes
Panels - e.g. alarm boxes, sewage & booster pump control panels
Pipe and fittings - MDPE, ABS, PVC pipe, some copper etc.
Daro ultraviolet sterilisers - Eco and Saphir ranges
Wedeco ultraviolet sterilisers - Aquada range
Cartridge filters - sediment, iron/manganese removal, carbon block
Acid conditioners - wide range using variety of mineral media
Iron & manganese backwash filters using Pyrlox and Crystal Right
Other backwash filtes e.g. softeners, nitrate removal, deionisation
---
We are also suppliers for most of the well-known manufacturers, equipment can usually with you next day directly:
Mono
KSB
Robbins & Meyers